How to chooose a pool cleaning service
Did you know that for most people their swimming pool is their second largest investment? When you choose a company to perform weekly pool service and pool cleaning, it's important to find one that realizes how much your pool means to you!  Your pool should be something you, your family, and your friends enjoy… safely. We're well aware of how many families in the Orlando area plan their weekends around their pool.
Certified Pool Pros is devoted to helping you enjoy the entire swimming season in your pool with zero downtime. In fact, your satisfaction is so important to us, we guarantee our pool cleaning services!

Because we don't use contracts, you're free to cancel our service at any time so it's really just in our best interest to make sure that you are delighted with your pool service. We're so sure we'll exceed your expectations, we've even created a Refer-A-Friend program to reward you each time one of your friends becomes a new customer. Call us today at 407-859-POOL (7665) and find out more!
Our pool service includes weekly visits from our trained, certified and insured crew members with the single goal of providing you and your family a fun filled and safe swim season!
Our Weekly Pool Cleaning Service Includes
Water line brush
Skim pool surface
Vacuum pool
Clean and inspect skimmer & pump baskets
Perform and track chemical balance test
Add all basic chemicals to balance
Inspect pump, filter equipment, heater, salt system
Clean filter
Backwash as needed
Evaluate overall pool health
Additional Services
When your weekly pool cleaning is complete, out tech will leave you a note letting you know we were there, what we did, and what the overall condition of your pool and filter are.  If you need a pool service that you don't see in the list above, just ask, chances are we do it or we know of a reputable company we can refer you to.
We promise to make every effort within our power to ensure that we visit your pool on the same day every week, though sometimes Florida's weather can wreak havoc on even the best of plans.  When those situations do arise we will service your pool as soon as the weather permits!
Swim season is here again,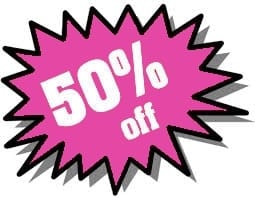 what a perfect time to start a new pool service! If you're not satisfied with your current pool service company, call us now. We guarantee your satisfaction! We'd love to take care of your pool, and in order to entice you, we're offering our residential customers Half-Off one month of weekly pool service when you enroll in our AutoPay service!  Just call us at 407-859-7665 (407-859-POOL) or Contact us NOW online to get more information.